Horizon Chase Turbo by indie developer Aquiris Game Studios offers the incredible speed of F-Zero, the polish of Top Gear and some of the best split screen racing action ever to hit the PC in a long time.
The object of the game is to drive in over 100 challenging tracks in 48 different countries with the goal of placing in the top three which is needed to advance to the next level.
Out of my way buster! Can't you see I'm in a hurry?
Whether you play Chase Horizon Turbo solo or with a friend, you'll always be presented with a slick view from behind the car. The game offers solo and co-op modes for when you're buddies are around. Unfortunately, it does not support online multiplayer which is a bummer since this type of game screams for online head-to-head competition.
Luckily, the various levels of difficulty and the excellent single-player mode are enough to provide an exhilarating racing experience. Make no mistake, this roadster was built for single-player fun!
The 31 unlockable cars include about a dozen upgrades with each car rated for maximum speed, acceleration, fuel consumption, and maneuverability. Controls, as you can imagine, are textbook classic: Accelerate, brake, upshift, and nitro are complimented with tight and precise controls.
When you accelerate you can actually feel the slight tire grip as you're rounding the corner at maximum speed. The tracks are static, so the game rewards you for memorizing the track layout in order to sport the best lap times possible.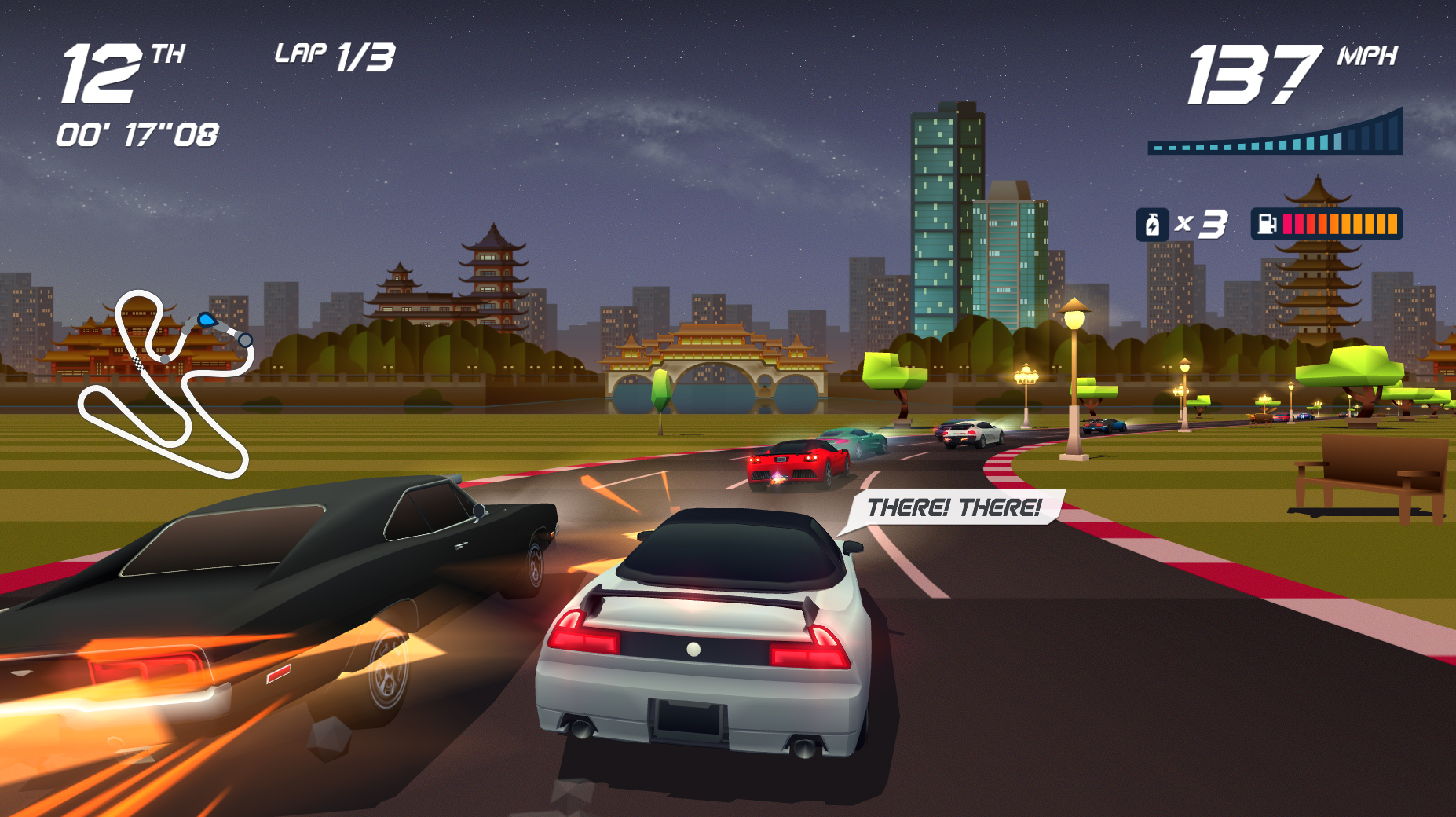 A shiny new coat makes a world of difference!
The graphics definitely shine with a look reminiscent of the old Lotus and Outrun classics but with a modern flair. Horizon Chase Turbo supports 4K resolutions and runs at a blistering pace with nary any slowdowns. The pulse-pounding soundtrack helps keep the adrenaline pumping and blends perfectly well with the frantic pace going on around you.
Overall, I have nothing negative to say about Horizon Chase Turbo. It's fun, challenging and has a natural feel to it. There are no complicated controls or complex nuances that are associated with most modern racing games. Nonetheless, if you've been spoiled by games like The Need for Speed or expecting a game with real-world physics, then you might be disappointed with this offering. For everyone else looking to capture a little bit of nostalgia from the glory days of 16-bit gaming, this is a definite must buy!
---
Interested in learning more about the game? Check out the game on Steam!