The year 2000 was the first time in recent memory where every major gaming system on the market was represented in the Top Ten. Of course, it wouldn't be a top 10 without a Pokemon game or two or three, right?
1 – Pokemon Yellow (Gameboy)
While it's basically the same game as Pokémon Red and Pokémon Blue, Pokémon Yellow: Special Pikachu Edition features enhancements that make it the best version yet. In all three versions, the player is on a quest to become the World's Greatest Pokémon Trainer, with exploration and Pokémon battles (think advanced paper-scissors-rock) factoring heavily into the gameplay.
2 – Mario Party 2 (Nintendo 64)
Every good game deserves a sequel, and the addictive, quirky Mario Party 2 certainly fills the bill. This multiplayer party title combines the gameplay of a traditional dice-based board game with several brief action-game segments, including updated versions of 20 of the best offerings from the original Mario Party. 
3 – Crazy Taxi (Sega Dreamcast)
Crazy Taxi 2 is set in the most taxi-crazed city of them all: New York. Leaving the California sun behind, this sequel has a grittier, more urban aesthetic–and an attitude to match. Though the object of the game is still to pick up and shuttle fares across the city, Crazy Taxi 2 sports better graphics, new and returning drivers, more missions, and a wild new jump feature that lets you clear cars and intersections at the touch of a button. 
4 – Gran Tourismo 2 (PlayStation)
The first racing 'simulator' for Sony's home console proved to everyone that good games were still being developed for the original PlayStation. While GT would eventually be ported to the PS2 later in the year, racing aficionados were lining up just to get a taste of this classic.
5 – Pokemon Red (Gameboy)
It's the game that started a revolution, but it's not just the fad that convinced gamers to "catch 'em all." This deceptively simple and child-friendly roleplaying game design is a far deeper game design than it looks. Pokemon features way more strategy and gameplay than it leads on, offering gamers almost infinite gaming possibilities even after the main adventure ends.
6 – Pokemon Blue (Gameboy)
In Pokémon Blue, your mission is to collect all 150 Pokémon. To collect all 150, you'll need to train each captured Pokémon. Once they evolve, each Pokémon gains power, which can be used to defeat and capture other Pokémon. Along the way, several skilled trainers will challenge you to Pokémon duels. To win the game, you must defeat them all.
7 – NHL 2K (Sega Dreamcast)
In the tradition of NBA 2K and NFL 2K, two of the finest console sports games to date, Sega's NHL 2K aims to score big as the most realistic hockey simulation game ever seen. Those who've witnessed the capabilities of this game's predecessors know what to expect: hyperrealistic gameplay, TV-perfect camera angles, jaw-dropping graphics, expert game commentary, and other fine details that capture the spirit of the sport.
8 – WWF Wrestlemania 2000 (N64)
For those of you who've never even considered ordering a pay-per-view wrestling event or are appalled by the sight of steroid-fueled monster-men in a ring, this video game title is not for you. Still here? Then get ready for more ferocious virtual wrestling action, this time from WWF's corner of the ring.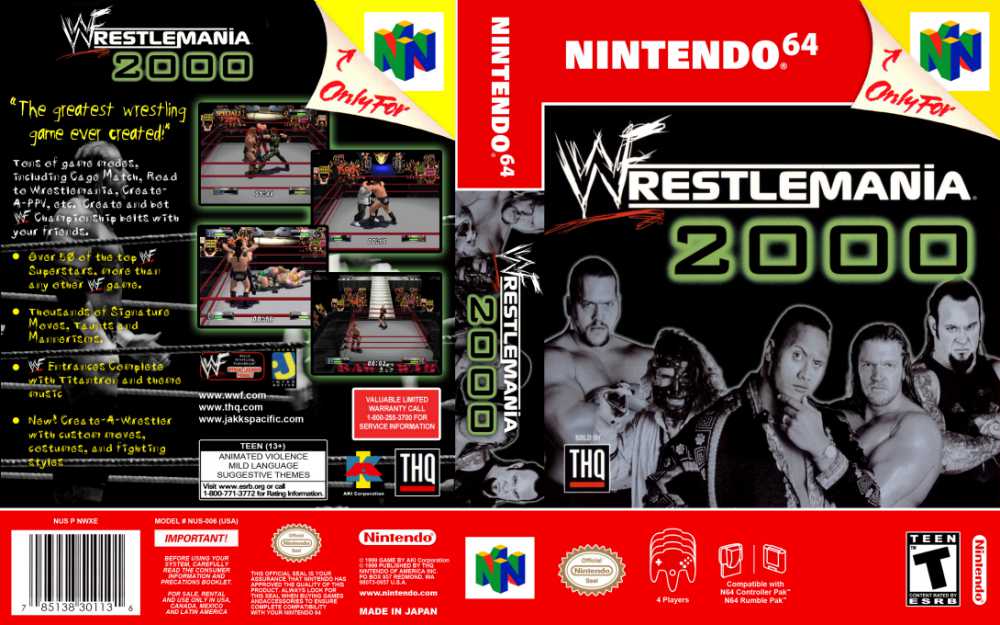 9 – Tony Hawk's Pro Skater (PlayStation)
Tony Hawk, famous for his 720 move (a mid-air 360-degree somersault done twice), is widely credited as being one of the best skateboarders in the world. Hawk lends his technical advice and character likeness to this nine-level title, which is among the better skating titles on the PlayStation. While it is cool to play as Hawk, would-be skate pros can also choose to play as one of eight other skaters. 
10 – Dukes of Hazzard (PlayStation)
Take everybody's favorite hicks-'n'- car-chases TV show, the Dukes of Hazzard, and turn it into a mission-based driving game. There'd be all sorts of things you could do like running from the law, racing, wrecking cop cars… uh… running from the law some more… the list goes on and on. The game's story is told through pre-rendered cutscenes, which use some of the real voices from the old TV show.