Still Waiting for Half Life 3? Don't Hold Your Breath!
Half-Life 3 is starting to become nothing more than folklore in the gaming industry. The same way UFO's and the elusive Bigfoot are mere figments of people's imaginations. While there have been some rumors about its progress, no one at Valve would confirm, or deny, that Half-Life 3 is currently being worked on.
Ever since the original Half-Life debuted in 1998 and Half-Life 2 in 2004, players from every corner of the gaming have been feverishly waiting for the trifecta to happen. But it hasn't, and Valve has been very tight-lipped on its long-term plans for the franchise. Without any current information coming from the Valve team, one has to wonder why a game that can guarantee to sell in the millions isn't a priority to them.
Take a look now at our top 3 reasons why Half-Life 3 will never see the light of day, and why gamers would be better off forgetting about it. At least for the time being anyway…
 #3 Procrastination
You know that saying, "Good things come to those who wait?" 
Well, Valve seems to take that quote to heart.
In general, Valve takes their sweet time on every game they develop. The time between HL1 and HL2 was almost 6 years – which in the gaming world is considered a long time. Another first-person survival horror game, Left 4 Dead, debuted in 2008. Its sequel one year later. Counter-Strike was released in 2000, and Counter-Strike 2 Global Offensive in 2012; a total of 12 years not counting all the installments in between. While I commend Valve for taking the time to polish up their games, they go beyond the average wait time to do it. As gamers, we forgive them because it's Valve and their games rock, but they should not take advantage of us.
We can wait. But not forever. 
#2 Valve Is No Longer a 'Game' Developer
Yes, folks, Valve is no longer a game company. There I said it. They use to be… but not anymore. Why? Because they don't need to develop games to make money.
Their digital distribution platform is their bread and butter, and as long as that pays the bills (and a few homes in several exotic islands) there's no reason to do anything else but lay back and soak up the sun. Their most recent job posting consisted mainly of positions in systems analysis with less than 3% of job openings in game design. What does that tell you? It means more resources are being allocated to Steam than in their internal game studios. 
#1 Steam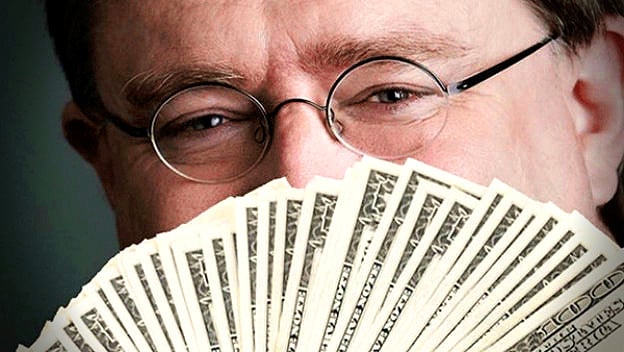 This five letter word is the real reason we aren't getting Half-Life 3 anytime soon. Steam is so successful that it is considered to be the largest digital distribution platform for PC gaming and was estimated by Screen Digest to have 75% of the market space in October 2017. I'm no math guru but when you own so much of the PC landscape you're almost forced to not do anything else. While I can't fault Valve as a company for solely focusing on Steam, I will place some blame on Gabe Newell for not licensing Half-Life 3 to developers who actually want the game to be released.
Look, I understand the reasons why Valve is in no hurry to complete the game, but it is the players that are wanting it. And when I last checked, it was us, the gamers, who made Valve and Steam the juggernauts they are today.
Tell us in the comments below!
Do you think Half-Life 3 will ever see the light of day?