"Support micro organisms…..it is the only culture we have left!"
Partickhill Games brings us Tricone Lab, a deceivingly simple, quasi-minimalist looking puzzle game that will make you use all your lateral thinking abilities in order to proceed though the increasingly difficult levels.
"Red, white and blue? No, no. Red, Green and Blue!"
In Tricone Lab you interact with microscopic organisms in what appears to be a cellular-like environment. Your goal? To create as many "tricones" as the level needs to let you proceed.
Tricones are created by joining three colored cones (red, green and blue) into a master template, but several things will get in your way: not only the membranes, but also other organisms that might either aid or hinder you in your quest to complete the levels.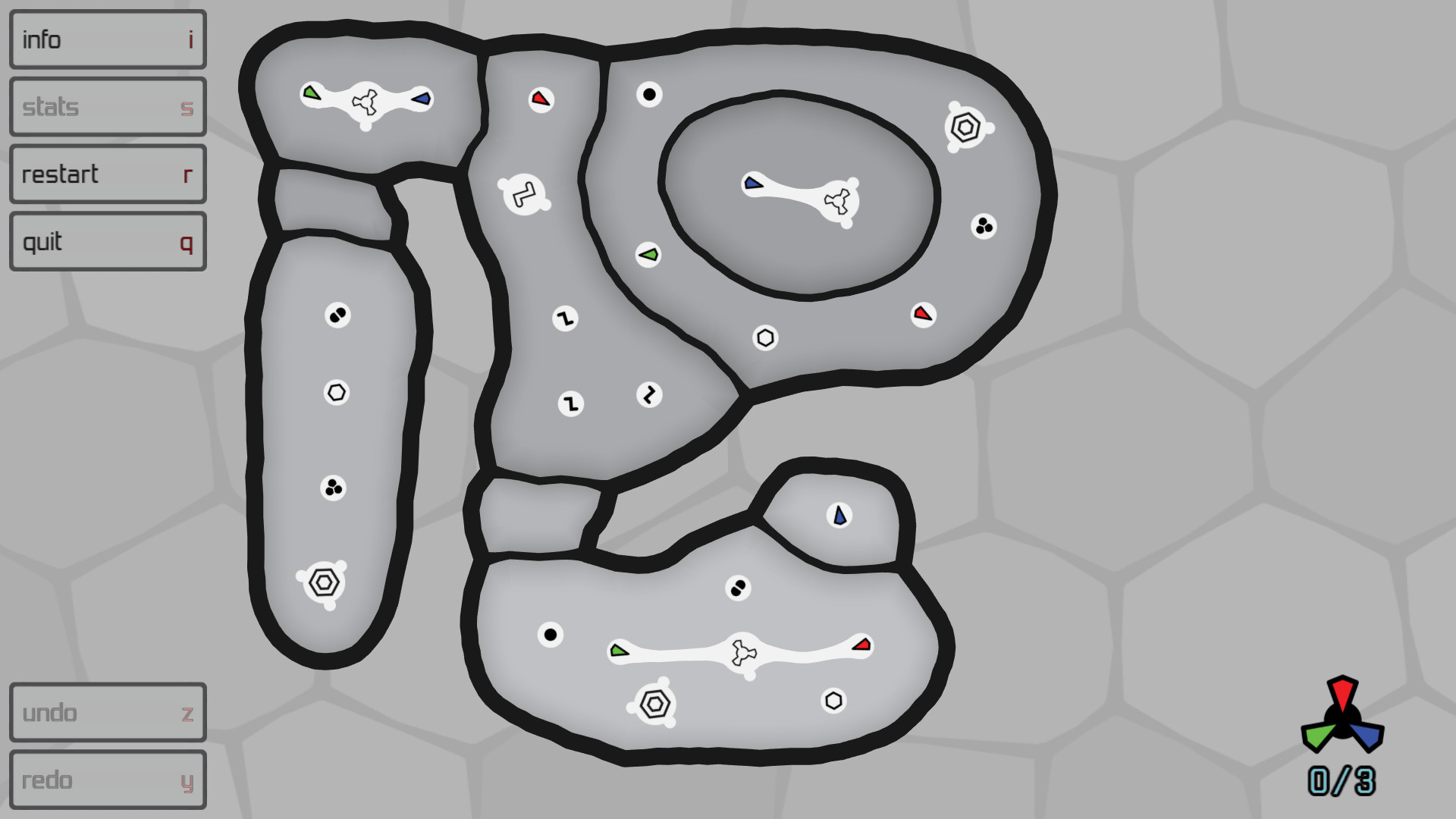 The graphics of the game might be quite simple, but there's a certain charm to the simplicity of the game, and I greatly appreciate the almost monochrome tonality of most of the game, for these type of puzzle games tend to end up in bright colors to make up for the lack of "proper" graphics. Not here! The graphic style seems to fit perfect with the game.
The music and sounds are pretty good and almost relaxing. I rather enjoyed them even if I kept them at a very low level.
Playing it is simple enough – you mostly will use your mouse to connect things and navigate, but there are also keyboard shortcuts should you not want to go entirely with the mouse.
The levels, as I've already stated, appear to be quite simple when you begin, but as you progress they get increasingly difficult, and often times I would get stuck by not thinking things through properly before launching into what looked like a simple puzzle, but ended up being something more… even when the difficulty was marked as low. So the game really makes you pay attention to what you're doing.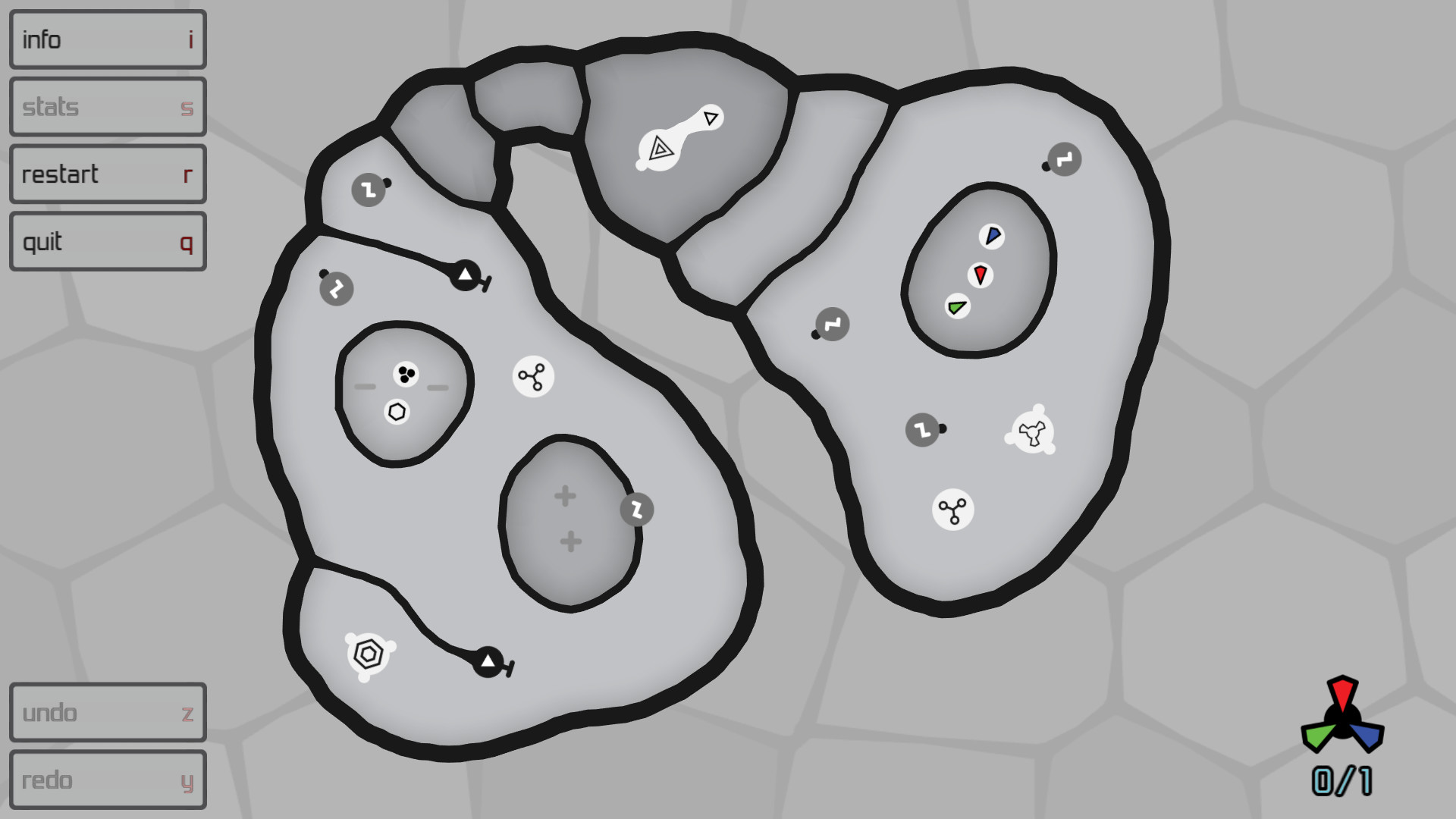 There are neither tips nor guides in-game (there are tutorials though, like with every puzzle game, introducing you what new items do), though I've found often the level names are tips on their own.
"As you get through the levels you will unlock keys that will allow you to open even more levels for a whooping total of 100"
Yes, you read that right. Tricone Lab boasts of 100+ levels, and if that were not enough for you, they also have a level editor. You can upload any maps you create with it, and others will be able to play them. Can you see the possibilities here? I can.
"And the good news? The game is still in development! Which means it can only get better!"
Tricone Labs is an entertaining, challenging game that, although it might not be a graphical masterpiece, is truly worth your time to check out. I'm the kind of person that gets easily frustrated with games, and I have to say, while I did get stuck here and there, Tricone was never stressful nor frustrating to play through.
In short:  Would I recommend it? Without hesitation, I would say YES! It's fun, addictive and will keep you glued to your monitor until the wee hours of the night. Just like Tetris kept the world fascinated with falling blocks, Tricone Lab will have you immersed with these simple -yet addictive- microorganisms.
__________________________________________________________________
Overall
Summary
A fun little puzzle game that doesn't pretend to be anything else. A perfect example of how something so simple can can become so addicting without it being so overly complex.